Alola
アローラ地方
Arōra region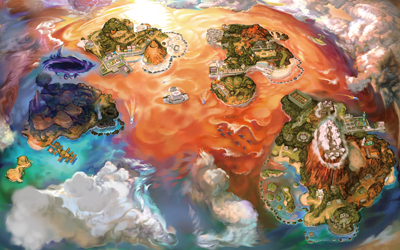 Map of the Alola region.
League

Pokémon League
Alola League
League Location
Pokémon League
The Alola region (Japanese: アローラ Arōra-chihō) is a region of the Pokémon world. It is far away from Johto, Hoenn, Kanto, Sinnoh, Unova and Kalos.
Professor Kukui is the resident Pokémon Professor and gives Trainer's a choice between Rowlet, Litten or Popplio as their starter Pokémon.
History
Alola is different to the other known regions in that it is not one large island but rather a group of islands creating the whole region: Melemele Island, Akala Island make up two of the five islands. The region is also much more exotic and tropical than other regions, featuring mostly open rural towns and cities, with lots of grassland and open waters.
Alola also has a unique trait to other regions in that there are many Pokémon, such as Vulpix, Marowak, Exeggutor and Sandshrew among others who have region variations to that of those found in their home regions such as Kanto. These are found throughout the region due to the varying climate.
Cities, routes, and other locations
| City/Town | Population | Description |
| --- | --- | --- |
Landmarks
Gym Leaders
Elite Four
Alola League

160px

Elite Four




Molayne

160px

Elite Four




Olivia

160px

Elite Four




Acerola

160px

Elite Four




Kahili
Community content is available under
CC-BY-SA
unless otherwise noted.