Pokédex entry

"Using air of -150 degrees Fahrenheit, they freeze opponents solid. They live in herds above the snow line on mountains. It blocks opponents' attacks with the ice that shields its body. It uses cold air to repair any cracks with new ice."
Bergmite is an Ice-type Pokémon owned by Lexi. He was first introduced in the Xenial Destiny series.
History
Xenial Destiny
Bergmite was caught in Traversing Through the Snow!, where it was saved by Lexi and Brigette from a horde of Sneasel, who became enraged after he accidentally destroyed their home while in thick snow.
Bergmite appeared during Lexi's Gym battle against Olympia both during her initial battle and the rematch, but lost both times. Despite both losses, Bergmite became stronger through battling against Team Flare, showing much growth in a short time.
It battled against Siebold's Starmie during Lexi's Kalos League battle, which it won.
Lexi continues to use Bergmite following the League. It remained with her until she left for Hoenn, where it resided at the Kalos Ranch with Hayley.
Skills
Bergmite can chill the air around himself to -150 degrees, freezing the water in the air into ice that he can then use as armor.
Achievements
Gallery
Bergmite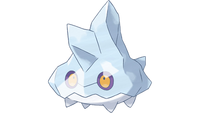 Bergmite artwork
---
In Rotation:

At Hayley's Ranch:
Befriended:
Released:
At Home:
Traded away:
Community content is available under
CC-BY-SA
unless otherwise noted.