Pokédex entry

"During times of strong sunlight, its bud blooms, its petals open fully, and it becomes very active while absorbing the sun's rays with its whole body."

This Pokémon is fully evolved.
Cherrim is a Grass-type Pokémon owned by Lexi. She was first introduced in The Alexis Saga series.
History
The Alexis Saga
Cherrim first appeared in B2W2-005 when she was caught by Lexi for her new team. From then on, Cherrim appeared intermittently, being used for Gym Battles against Elesa, Clay and Marlon, but not appearing at any other time. She then returned for Lexi's League Battle against Caitlin in B2W2-053.
Personality
Cherrim is a bright and sunny Pokémon, however, it is very much a naturalistic Pokémon who prefers to be outside in the sun.
Skils
Cherrim is able to go one step further of Photosynthesis, being able to convert this into solar energy that can power whole cities, if kept happy enough.
Achievements
Gallery
Cherrim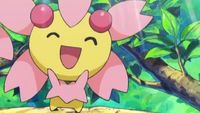 Lexi's Cherrim.
---
In Rotation:

At Hayley's Ranch:
Befriended:
Released:
At Home:
Traded away:
Community content is available under
CC-BY-SA
unless otherwise noted.