Pokédex entry

"Such a thick shell of wood covers its head and back that even a direct hit from a truck wouldn't faze it. The quills on its head are usually soft. When it flexes them, the points become so hard and sharp that they can pierce rock."
Chespin is a Grass-type Pokémon owned by Lexi. He was first introduced in the Xenial Destiny series, given to Lexi as a gift from Shauna.
History
Xenial Destiny
Chespin was given to Lexi by Shauna in Vaniville Town as a thank you for her friendship following the conclusion of the League. He joined Lexi's team and remained with her throughout the conclusion of her initial Kalos journey, remaining outside its Pokéball with Lexi.
Due to Lexi's faked death, Chespin was left at the Kalos Ranch, although Lexi promised he would rejoin her team in the future.
Personality
Chespin, like many of its species, is a hyperactive and outgoing Pokémon. This Chespin is incredibly greedy when it comes to food, but is able to give up food for those who are weaker than it. He is very cocky and power hungry, wanting to battle regularly, so much so that it sometimes jumps out onto the battlefield mid-battle to help.
Skills
Chespin has quills on his head that are usually soft, however when flexed, the points become so hard and sharp they can pierce rock. Despite being soft, his shell is so thick even a direct hit from a truck wouldn't faze it.
Achievements
Gallery
Chespin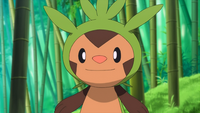 Lexi's Chespin.
---
In Rotation:

At Hayley's Ranch:
Befriended:
Released:
At Home:
Traded away:
Community content is available under
CC-BY-SA
unless otherwise noted.