Pokédex entry

"Restored from a fossil, this Pokémon can dive to depths beyond half a mile. It has been said that they swallow those who get too close and turn them into mummies. They like to eat gold nuggets."

This Pokémon is fully evolved.
Cofagrigus is a Ghost-type Pokémon owned by Lexi. He was first introduced in The Alexis Saga series.
History
The Alexis Saga
Cofagrigus first appeared in BW099 during a foggy and dark day on Route 8. The Route was filled with swarms of Yamask, who were guarding the Cofagrigus. It was soon uncovered that the Cofagrigus was abandoned by his Trainer and called on the Yamask species to cast out any Trainers to protect himself. After Lexi and her friends successfully got to the Cofagrigus, battled it, and talked it round to releasing the Yamask. After this, Lexi asked it to join her team, which it did so.
Cofagrigus was used against Iris in BW108, where it showed of its immense power. Because of this, it was later used against Shauntal in the Unova League.
Xenial Destiny
Cofagrigus briefly appeared when Lexi visited the Kalos Ranch.
Personality
Cofagrigus shows an irregular amount of emotion for its species; most likely because of its dark past with its previous Trainer. Because of this, it seems distant to those it doesn't fully know, including Pokémon of Lexi's it hasn't become acquainted with. Despite this, it's shown it's willingness to impress Lexi.
Skills
Cofagrigus is able to perform mummification; It swallows those who get too close inside their bodies for posession or to mummify.
Achievements
Gallery
Cofagrigus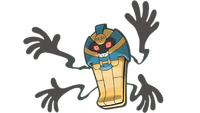 Cofagrigus artwork
---
In Rotation:

At Hayley's Ranch:
Befriended:
Released:
At Home:
Traded away:
Community content is available under
CC-BY-SA
unless otherwise noted.