Pokédex entry

"Cubone pines for the mother it will never see again. Seeing a likeness of its mother in the full moon, it cries. The stains on the skull the Pokémon wears are made by the tears it sheds."

This Pokémon has not evolved.
Cubone is a Ground-type Pokémon owned by Lexi. He was first introduced in The Alexis Saga series.
History
Cubone was caught during the two years between Best Wishes: Noble Victories and Best Wishes II. Not much is known about where or when he was caught.
The Alexis Saga
Cubone has appeared briefly on several occassions; mostly in New Beginnings. It's very scared and dislikes battling, often sticking by Hayley rather than with other Pokémon.
Personality
Cubone, like most of its species, is a very lonely Pokémon who rarely interacts with others. Despite this, it's shown that it's genuinely happy not socializing with others. It spends a lot of its time with Hayley, often out of sight.
Skills
Thanks to the skull of his dead mother he wears, he is able to communicate with the dead, although usually he gets distracted by trying to speak to his mother.
Achievements
Gallery
Cubone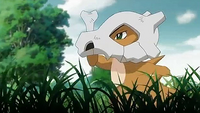 Lexi's Cubone.
---
In Rotation:

At Hayley's Ranch:
Befriended:
Released:
At Home:
Traded away:
Community content is available under
CC-BY-SA
unless otherwise noted.