Pokédex entry

"It gazes into the flame at the tip of its branch to achieve a focused state, which allows it to see into the future. Using psychic power, it generates a fiery vortex of 5,400 degrees Fahrenheit, incinerating foes swept into this whirl of flame."
Delphox is a Fire/Psychic Pokémon owned by Lexi. She was first introduced in The Alexis Saga series, given to Lexi as a Fennekin by Professor Sycamore as her Kalos Starter Pokémon in SI015, before evolving into Braixen in A Focused Rematch! and finally into Delphox in The Final Elite! Lexi vs. Drasna!.
History
The Alexis Saga
As Fennekin
Lexi first encountered Braixen as a Fennekin in SI015 while she was under the care of Professor Sycamore, who had met Lexi several days before. He decided to show off the Fennekin to her, as she had never seen one and he brought her with him on his journey. Lexi and Fennekin bonded during their time together, after she trained with her while Professor Sycamore was working. She had hoped she would remain with Lexi, however, oblivious to it's feelings, Professor Sycamore departed with the Fennekin in toe, which Lexi promised she would see again.
Fennekin returned in SI016 after escaping Professor Sycamore and returned to the Sinnoh Ranch looking for Lexi. Shocked at it's arrival, Lexi was later visited by Diantha, a woman whom Professor Sycamore had asked to retrieve Fennekin for him. However, upon seeing Fennekin and Lexi together, she decided against it and spoke to Professor Sycamore suggesting that Fennekin would like to stay with Lexi, which he happily agreed. The Fennekin then stayed under the ownership of Lexi from then on.
Xenial Destiny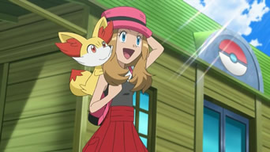 Upon arriving in Kalos, Fennekin become Lexi's main partner, being held by Lexi in her arms while traveling.
In Welcome to Kalos! A New Adventure Awaits!, Fennekin was first utilized in battle against Shauna and her Chespin, in which she easily won. Lexi continued to use Fennekin in battle in Aquacorde's Little Threat! helping her capture the then wild Helioptile, which eventually became a member of her team. In The Santalune Sisters! Lexi vs. Alexa! and Click, Flash! Lexi's Bug Battle!, Fennekin was used to eventually gain the Bug Badge from Viola.
In A Beautiful Battle! Sycamore vs. Calem, Professor Sycamore commented on how quick both Lexi and Fennekin have bonded, and that it appears Fennekin wants to become strong for Lexi, possibly to evolve. Lexi explains to Fennekin that she knows it can become strong without evolving, and that it should only try to evolve if it really wants to, which it appears unsure of.
From then on, Fennekin was a stable contribution for Lexi's team. She battled in many of Lexi's Trainer battles, including her fourth Gym battle with Ramos in The Bushy Battle! Lexi vs. Ramos. Fennekin was also Lexi's biggest help in taking down Team Flare due to its first hand view of the events leading up to their battle.
In Anistar Gym! Lexi vs. Olympia, Fennekin finally confronts her feelings towards evolution after Olympia foresees that she will evolve soon, still unsure of whether or not evolution is the right option for her. In A Focused Rematch!, Fennekin finally came to terms with evolution after comforting words from Lexi, ultimately evolving into Braixen.
As Braixen
Upon evolving, Braixen became much stronger and in control, becoming maturer while still being very close to Lexi. Also, like Helioptile, she decided to remain inside her Pokéball following her evolution.
Despite not appearing outside her Pokéball, Braixen still made a prominent appearance throughout the remaining time in Kalos. She appeared as a vital member in taking down Lysandre and Team Flare, and focused heavily on her tactics while battling. She battled against Calem's Greninja, in which she seemed to be jealous of the power Greninja had as a fully-evolved Pokémon.
Braixen began battling Drasna of the Elite Four in The Final Elite! Lexi vs. Drasna!, giving it all she had. As the battle intensified, Braixen used it's strength to inhibit evolution.
As Delphox
Now as a Delphox, she successfully help defeat Drasna, advancing to battle Diantha and once again winning. From then on, Delphox appeared sparsely during the rest of the Kalos journey. Once Lexi left for Hoenn, Delphox remains at the Kalos Ranch for the foreseeable future.
Personality
Fennekin was shown to have a very empathetic and loving nature, especially concerning Lexi. She's was very childlike, often seen daydreaming while watching Lexi, and then beginning to mimic her actions. She was also overly excited while training or interacting with Lexi, showing that she grew to love Lexi in a very short time. Although she first appeared distant towards strangers, Lexi seemed to have influenced her personality so that she is much more warm and welcoming to wild Pokémon and Trainers.
When not around Lexi, Fennekin seemed to be quite lost and unsure of it's actions. There have been several instances where Fennekin has seemed to lose patience if not around Lexi, seeming to have become dependent on her.
She appeared uncomfortable when things get tense or the atmosphere is anything but happy. However, as time progressed, she seemed to become more expressive of her feelings of anger towards Team Flare in particular, due to their goal to harm or kill Lexi, her friends, and seemingly her Pokémon.
Fennekin has been found not to want to confront her feelings over evolution on many occasions; she has appeared to want to remain in her 'childlike' state. Over time, Fennekin has matured majorly, and her decision to do so seems to have been influenced by the events that have occurred involving Team Flare. Eventually, she came to terms with her feelings of becoming 'grown up' and eventually evolved into Braixen.
Despite evolving, Braixen seems to not have changed much, other than becoming stronger and more serious and focused. She seems to still find it very rewarding to be with Lexi. Once evolving once more, Delphox seemed to once again retain her personality, only becoming more mature in personality.
Skills
Delphox is able to perform witchcraft; she gazes into the flame at the tiup of her branch to achieve a focused state, which allows it to see into the future. She can generate a fiery vortex of 54,400 degree which can incinerate anything it comes into contact with.
Achievements
Gallery
As Fennekin
As Braixen
Delphox as a Fennekin.
Fennekin artwork.
Braixen artwork
Braixen artwork.
Delphox
Delphox artwork
---
In Rotation:

At Hayley's Ranch:
Befriended:
Released:
At Home:
Traded away:
Community content is available under
CC-BY-SA
unless otherwise noted.