Pokédex entry

"Dragonair stores an enormous amount of energy inside its body. It is said to alter weather conditions in its vicinity by discharging energy from the crystals on its neck and tail."
Dragonair is a Dragon-type Pokémon owned by Lexi. She was first introduced in the Xenial Destiny series.
History
Mega Mastery
Dragonair was caught in ?? by Lexi while the group was traversing Victory Road and came into contact with a group of poachers. Dragonair was trying to protect a Dratini when she was attacked. Witnessing the assault, Lexi jumped in and protected her using her Mega Evolved Lopunny. Lexi expressed her desire to capture her, but Dragonair showed hesitance due to Dratini, however, Dratini evolved and seemingly coaxed Dragonair to accept, resulting in Lexi finally capturing her. She remained on Lexi's team when she headed to Alola.
Personality
Dratini is a particularly graceful and elegant Pokémon, which has shown a great will to protect others. She is one of the strongest Pokémon Lexi has caught in her time as a Trainer, already holding an immense power from being captured.
Skills
Dragonair has the ability to change climate conditions. She has excudes a gentle aura and stores an enemorous amount of energy in her body.
Achievements
Gallery
Dragonair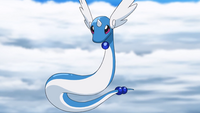 Lexi's Dragonair.
---
In Rotation:

At Hayley's Ranch:
Befriended:
Released:
At Home:
Traded away:
Community content is available under
CC-BY-SA
unless otherwise noted.