Pokédex entry

"Eevee has an unstable genetic makeup that suddenly mutates due to the environment in which it lives. Radiation from various stones causes this Pokémon to evolve."

This Pokémon has not evolved.
Eevee is a Normal-type Pokémon owned by Lexi. She was first introduced in the Xenial Destiny series.
History
The Alexis Saga
Eevee first appears in B2W2-064 while Lexi is in the Dream World. With no other Pokémon around, Eevee and Lexi join together as Lexi investigates the Dream World. After a run in with a mysterious Trainer and Pokémon, along with the events of M03 and M04, Eevee joined Lexi's team.
Eevee appeared regularly in New Beginnings, where it began to meet and interact with her other Pokémon. As of now, it has yet to appear again.
Personality
Eevee, like many of its species, is a usual normal happy and playful Pokémon that loves to interact with others. Eevee has a great will for battling and hopes to evolve, but struggles to decide which Eeveelution to evolve into.
Skills
While all Eevee's are able to evolve at anytime into eight known Eeveelutions, this Eeevee is special in that it can metamorphosis to and form different forms. Professor Magnolia suspects this is because it's actual destined evolution has not yet been realised.
Achievements
Gallery
Eevee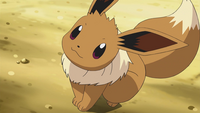 Lexi's Eevee.
---
In Rotation:

At Hayley's Ranch:
Befriended:
Released:
At Home:
Traded away:
Community content is available under
CC-BY-SA
unless otherwise noted.