Pokédex entry

"It flutters around fields of flowers and cares for flowers that are starting to wilt. It draws out the hidden power of flowers to battle. When the flowers of a well-tended flower bed bloom, it appears and celebrates with an elegant dance."
Floette is a Fairy-type Pokémon owned by Lexi. She was first introduced in the Xenial Destiny series.
History
Xenial Destiny
Floette was caught in The Suspicious Professor! after Lexi goes on a search for a new Pokémon for her team. She found Floette by chance, and after playing with Floette for a while, she decided to capture it.
Floette mainly appeared during one-off battles throughout her time on Lexi's Team. She was apart of Lexi's Gym battles against Grant, Clemont and Olympia respectively. In Ready... Set... Lexi decided not to use her during her Kalos League battles, deciding that Floette needed more training.
Lexi decided to keep Floette on her team following the League, in which Floette appeared regularly, although only several times to battle.
Floette's final appearance was in M05 where she was apart of the battle against Team Flare.
Personality
Floette was mainly a quiet Pokémon that seemed to dislike battling, and only seemed to want to do so when requested by Lexi. She also appeared to like to keep the peace between all the Pokémon when they were out together.
Skills
Floette has the power of resurgence; although due to it still being inexperienced, this is only the case for flowers that it cares for.
Achievements
Gallery
Floette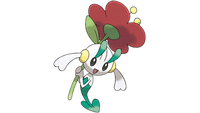 Floette artwork
---
In Rotation:

At Hayley's Ranch:
Befriended:
Released:
At Home:
Traded away:
Community content is available under
CC-BY-SA
unless otherwise noted.