Pokédex entry

"It is said that Golurk were ordered to protect people and Pokémon by the ancient people who made them. It flies across the sky at Mach speeds. Removing the seal on its chest makes its internal energy go out of control."

This Pokémon is fully evolved.
Golurk is a Ground/Ghost Pokémon owned by Lexi. It was first introduced in The Alexis Saga series.
History
The Alexis Saga
Golurk first appeared in BW153 when Lexi was in the Unova Victory Road when it blocked her path. After battling against it, she decided to capture it as a last minute addition to her League team. Golurk was very strong but seemed quite untrained, not really understanding the communication between itself and Lexi.
Despite this, it's appeared briefly since it's initial capture and League Battle, and has been seen to be more well trained and more connected with Lexi.
Skills
Golurk is an automaton; meaning it is able to transform into different figurations within itself. It is able to fly at mach speeds by retracting its arms and legs into itself, and is also capable of transforming into a cannon for attacks. If the seal of its chest is removed, it has the capability of turning a city to rubble.
Achievements
Gallery
Golurk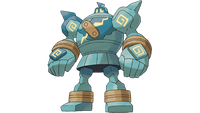 Golurk artwork
---
In Rotation:

At Hayley's Ranch:
Befriended:
Released:
At Home:
Traded away:
Community content is available under
CC-BY-SA
unless otherwise noted.