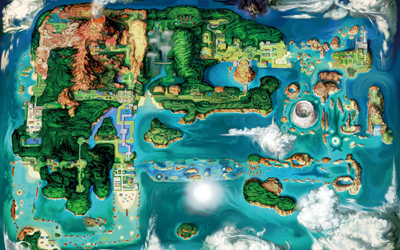 Map of the Hoenn region.
Professor
Professor Birch
Starter Pokémon
Treecko, Torchic, and Mudkip
Regional Villains
Team Aqua
Team Magma
League

Pokémon League
Hoenn League
League Location
Ever Grande City
The Hoenn region (Japanese: ホウエン地方 Hōen-chihō) is a region of the Pokémon world. It is located south of Sinnoh.
The names of most of the cities in Hoenn are made of two words put together (Little Root, Fort Tree, Ever Grande, etc.). Professor Birch is the resident Pokémon Professor and gives Trainer's a choice between Treecko, Torchic or Mudkup as their starter Pokémon.
History
Cities, routes, and other locations
Hoenn has sixteen cities and towns and a Pokémon League. These sites act as settlements for people to live and work in a functioning society. Hoenn features the largest amount of towns and cities of the six main regions.
The Hoenn region has 34 different routes, which are passages permitting Trainers to travel from one location to the next with relative ease. Much like Sinnoh after it, Hoenn's routes are numbered so that they don't follow sequence directly from previously-known regions' routes. Routes in Hoenn are numbered from Route 101 to Route 134. Compared to other regions, Hoenn features an abundance of sea routes, giving the impression that the Hoenn region is half-water and half-land. The Hoenn region has several routes that have weather conditions, including constant rainfall, thunderstorms, falling ash, and rays of sunlight.
The Hoenn region is unique and famous for its tropical-like environments. Despite Hoenn's abundance of water routes, there is a large amount of land. Since the cities and towns of Hoenn are immersed into nature, there aren't many large cities comparable to Unova's Castelia City or Johto's Goldenrod City. The region does not feature a true mountain range like in Sinnoh and other regions. Hoenn includes natural environments including a volcano, a jungle, a beach, a desert, and many more.
Gym Leaders
Elite Four
Hoenn League

Elite Four




Sidney

Elite Four




Phoebe

Elite Four




Glacia

Elite Four




Drake

Champion




Steven
Battle Maison
Battle Maison

Nita

Morgan

Evelyn

Dana
Community content is available under
CC-BY-SA
unless otherwise noted.