Age
Gender

21

Female
Region
Sinnoh/Unova
Hometown
Twinleaf Town/Aspertia City
Trainer class
Mega Master
Type Speciality
First Appearance
FL001
Current Status
Alive
Lexi (Japanese: レキシー Lekishī) is a Mega Master, Multi-type Specialist and the main character of the series.
History
Early years
Lexi was born as a twin with N in Aspertia City in Unova to mother Johanna and father Ghetsis. When she was born, N was taken by her father, who had decided to leave Johanna. Because of this, Johanna decided to move back to her hometown of Twinleaf Town in Sinnoh. Lexi grew up with half-sister, Hayley for 3 years and mother Johanna, before Johanna reunited with Hayley's father. When Lexi was 15, Ghetsis returned to come get Lexi; feeling left out of the family, she agreed to go with her father. In the next 2 years, Lexi became a senior member of Team Plasma, where she was "next in line" for leader, alongside brother N. Lexi and N finally became leaders of Team Plasma when they found the famed Black & White stones in a desolate cave, becoming Team Plasma's greatest gain. Following her and N's crowning as Team Plasma leaders, father Ghetsis confided in Lexi than N was planning to steal the other stone from Lexi and become the sole leader of Team Plasma, wanting to be the most powerful. Ghetsis told her that she should give the stone to him, in order for him to protect her. Lexi doesn't allow this, and hurt by her father's story, she decides to run away. Lexi manages to escape Team Plasma's base, destroying it in the process. However, her Pokémon at the time, Tepig, was captured by Team Plasma, in which Lexi told it that she would return for it when she could after it urged her to run away without it. N was told the same story by Ghetsis, being told that Lexi was trying to steal his stone and destroy him to have all the power to herself. N gives his stone to Ghetsis and leaves the base with his father. In the effect of the blast, Lexi receives memory loss, forgetting everything about her years as a Plasma member and her knowing of N and Ghetsis.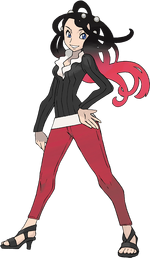 Finding her daughter alive a few months later, Johanna decides to not tell Lexi about her father, N or anything involving Team Plasma anymore. While asleep, a bunch of uniformed men come steal Lexi's body from her home. Knowing all about the story of Team Plasma and Lexi, Team Galactic Leader Cyrus begins to fill Lexi's head with fake stories telling her she has loyalty to Team Galactic, and that they are the company she has been with all this time. Lexi, not knowing otherwise, believes this and becomes a senior member of Team Galactic. For the next few years, Lexi causes havoc in the Sinnoh region. Lexi then saw her demise as a Team Galactic member when Lexi was defeated by Ash, and two friends, Dawn and Brock. It's here where Lexi is revealed to be the sister of Dawn, being the daughter of Johanna. But because of Lexi's memory loss, she never knew of her sister. When this is revealed to her, Lexi discovers that Cyrus had lied to her, and manages to defeat him with the help of Ash, where he was sent to the Distortion World. Lexi then cut ties with Team Galactic, deciding to start her own Pokémon Trainer Journey alone.
The Alexis Saga
Lexi's adventure took her to many different places, in which she not only took down a division of Team Rocket and the whole of Team Plasma twice, but also managed to battle the gyms and defeat the Elite Four in Unova. She captured many Pokémon along the way, including Legendary Pokémon. She was joined by Oshawott and Axew who stayed with Lexi outside their Poké Balls, also joined by Friends and Companions who traveled with her at different points of her journey: Gary, Greta, Caitlin, Elesa, Chili, Brock, Roxie, Marlon, Bianca and reunited with brother N, who was able to find out the truth about Ghetsis.
Most predominantly, in the climax of the Alexis Saga, Lexi and N managed to finally defeated their father Ghetsis after he attempted to kill them, along with the death of Colress, who was Ghetsis's aid during his "Ghetsis Initiative". However, in order to stop the darkness from entering the real world, N trapped himself within unstable Dream World to block it along with Ghetsis. With this, came the demise of Team Plasma and the end of Lexi's search for the truth behind her past.
Lexi decided to return home to Sinnoh following the Ghetsis Initiative, where she decided to take time out to look after her Pokémon. Because of the Unova Ranch Hayley owned was destroyed, she too, had to return to Sinnoh.
At the end of her Sinnoh stay, Lexi decided to depart to the Kalos region, after deciding to capture the Fennekin and take Sylveon back to her home.
Xenial Destiny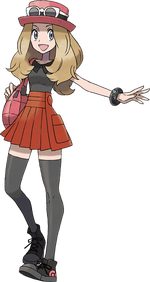 Lexi's first journeyed throughout Kalos, in which she once again sought to take on the Kalos Gym Leaders and eventually the Kalos League. She was once again joined by Pokémon outside of their Poké Balls, initially Helioptile and Fennekin, later becoming Pancham and Lucario when the former two evolved respectively. Lexi was joined by several friends: Fairy-type Gym Leader Valerie, rookie Trainer Calem and mysterious researcher Brigette, along with often being temporarily joined by other young Trainers Shauna, Trevor and Tierno.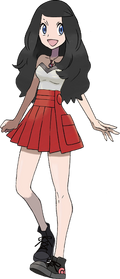 The most predominant story throughout the Kalos arc was that involving Team Flare, initially a mysterious organization that was eventually discovered to be led by Lysandre; a famous businessman throughout Kalos. Team Flare were attempting to wipe the world of 'ugliness' and create a more beautiful world by the discovery of 'The Ultimate Weapon', an nuclear weapon created almost 3000 years earlier by the King of Kalos, along with awakening and harnessing the power of Legendary Pokémon Xerneas. However, this plan was once again foiled by Lexi, whom became embroiled in a fight with the villainous team due to her previous connection to Team Plasma. However, the Team returned later in the series when Lysandre, whom was thought to be dead after the implosion of the initial Ultimate Weapon returned immortal, deciding to once again hatch his plan with an army behind him. He began a new age War of Kalos, also awakening Yveltal, the Destruction Pokémon to destroy Xerneas, whom Lexi sought after to help their cause. However, it was revealed that Lysandre's real plan was to now rid the world of everyone and everything, in order to start the world again in his image. The revelation, caused by Lexi, led to the end of the war. In a rage of the betray, Yveltal rushes to Lysandre's location at the Parfum Palace and fires attacks at it, causing Lexi and Lysandre to be trapped in the burning building. While Lysandre seemingly burned alive, despite attempt to save her by Calem and Marlon, Lexi fell to her death in the flames. In the aftermath, Lysandre was revealed to be alive and was arrested and put into a maximum security prison, while Lexi was buried, alongside those who had fallen during the war.
It was, however, uncovered that Lexi was in fact alive and well, faking her death in order to go undercover for Professor Sycamore. She escaped from Kalos out of sight and traveled to Hoenn to find the Mega Stones scattered through the region.
Upon arriving in Hoenn, Lexi began her long and arduous task of uncovering the locations of Mega Stones, using the power of her Mega Necklace and the research of Professor Sycamore. She also met many new friends, including Brendan, May, Flannery, and Brawly. But however, in her journey, she found herself in competition with Team Aqua, an organization who also were trying to find and collect the various Mega Stones in Hoenn, to aid their own plans. The main arc of the story was that of Lexi and her friends taking on Team Aqua as they caused havoc in Hoenn, while rookie Trainers May and Brendan took on the Gyms and Contest of Hoenn respectively. In the story, Calem, Shauna and Marlon returned to discover that Lexi was alive and well, becoming reacquainted and returning to the group, with their own goals - both Shauna and Calem intending to improve themselves in order to become better Trainers and Marlon in continuing to learn of the world to return to his Gym with a fresh outlook on Pokémon and battling. In the climax of the Hoenn saga, Lexi faced off against Kyogre, awoken by Team Aqua to flood the world in order to recreate it in Archie, Team Aqua's Leaders' image. Despite calming Kyogre and thwarting their plan, Team Aqua's rival team Team Magma awoke Groudon, causing Groudon and Kyogre to errupt into battle. Lexi and her friends were then left to find and gain the help of Legendary Pokémon Rayquaza, the only one able to calm the duos fighting. Once again being victorious, their victory was short lived, as an asteroid heading for Earth left the group with yet more peril to tackle - one that, with the help of mysterious Lorekeeper Zinnia - they thwarted, gaining Rayquaza's help once more to fly Lexi into space and defeating Deoxys.
With Hoenn saved, and both Brendan and May being successful in becoming Contest Master and Champion respectively, Lexi decided to leave the region for a quieter, calmer break. Calem and Shauna left the group in order to become Mega Masters, training with Steven Stone while Marlon returned home. Now a former Lorekeeper, Zinnia asked to join Lexi on her travels, and the two left for a new region they had not travelled to before, decided due to Lexi capturing Litten, a Pokémon native to the destination.
Astral Eclipse
Lexi and Zinnia arrived in Alola, intending to have a quiet relaxing explore around the region - however, they were suddenly attacked by a mysterious creature - which led to the discovery of Ultra Beasts, and the hidden truth of Team Rainbow Rocket and the return of Cyrus and Ghetsis. With the trouble in Alola, Lexi escaped and boarded a train, heading for who knows where...
Pokémon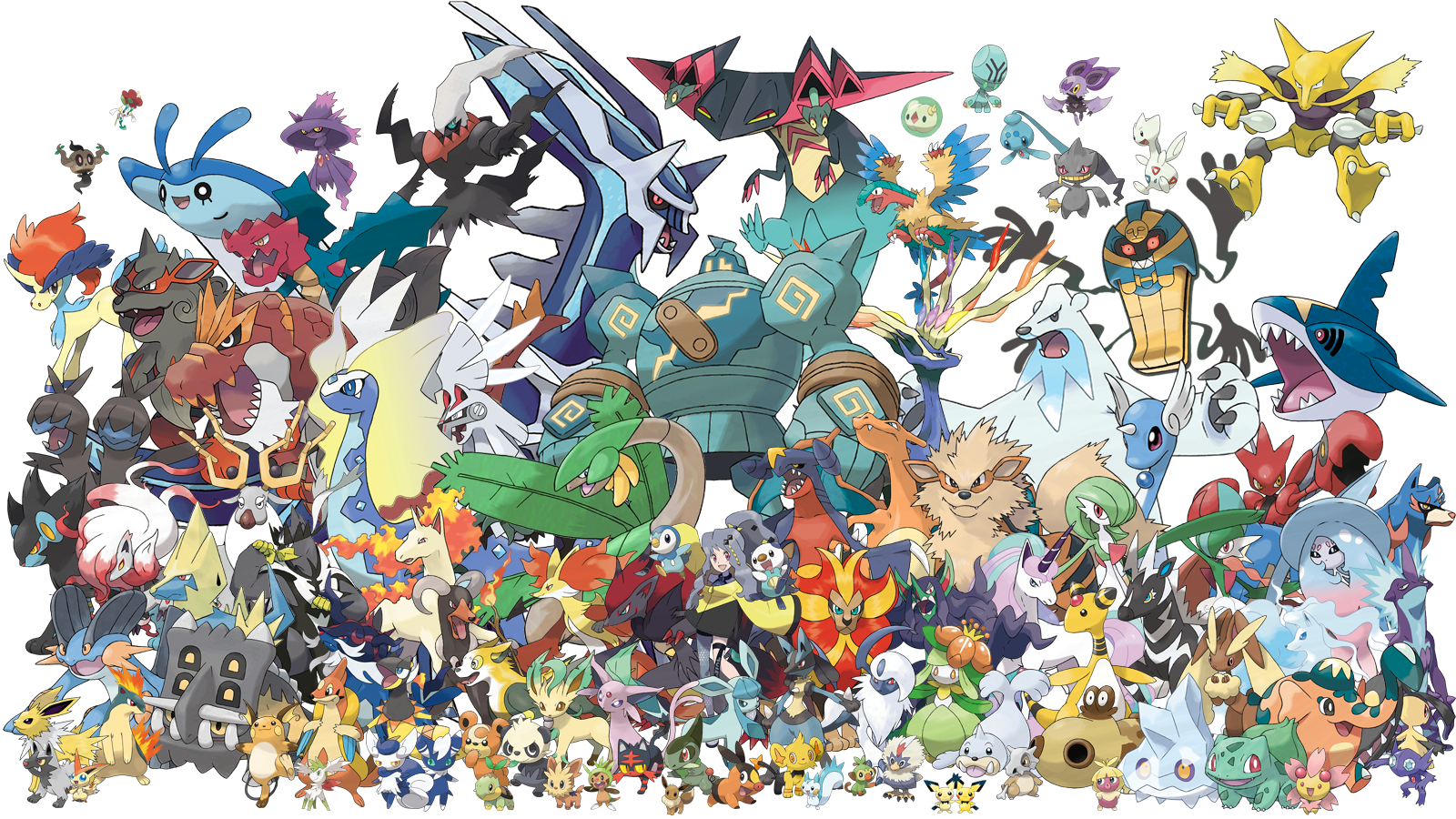 As a Trainer, Lexi has captured and befriended a sizable number of Pokémon over the course of her journey. Her philosophy on training is that Pokémon are individuals and that a combination of trust, friendship and hard work are needed to overcome adversity. She seems to battle best with Pokémon that are speedy and maneuverable, yet able to perform high-powered attacks; however, she is willing to work with any Pokémon that comes into her care. Lexi's battle style is generally spontaneous and powerful, and her Pokémon often reflect these traits.
In Rotation
Unlike other Pokémon trainers, Lexi can carry up to 8 Pokémon with her at a time, usually including at least 1 "out of Pokéball" Pokémon. She often rotates her team throughout her journey:
At Kalos Daycare
When not on her rotating team, her remaining Pokémon remain at Hayley's Pokémon Daycare in Kalos. Originally having a Ranch in Johto (closed when moved to Unova), Unova (destroyed) and Sinnoh, Hayley moved to Kalos with her husband and closed her Sinnoh Ranch and Lexi's Pokémon were kept at the newly opened Kalos Daycare and her previous Pokémon transferred over:
Befriended
This section is for the Pokémon that Lexi befriended. This means they are owned by Lexi but able to live in the wild until they are called upon by Lexi:
Released
This section is for the Pokémon that Alexis formally released back into the wild:
Traded away
This section is for the Pokémon that Lexi traded away:
Temporary
This section is for the Pokémon that Lexi has temporarily borrowed:
Sylveon joined Lexi after being captured by Ghetsis for his plans in the Ghetsis Initiative. When Lexi ventured to Kalos, she took Sylveon with her in order to find Sylveon's Trainer, whom Professor Juniper found was located in the Kalos region.
Accomplishments
Appearance
Lexi is a White- Caucasian female, with a tall and thin anatomy. She has large blue eyes with a small nose and pointed jaw, a long neck and robust chest. She always has long hair, which she has changed the colour of regularly. However, in her first appearance up until the beginning of the Xenial Destiny series, she styled with beads.
Her clothing has changed since her first appearance. While she first appeared as a Team Galactic member wearing their uniform, once she left the team she wore normal clothes. This included long skinny jeans with a patterned fabric belt, a long cropped long sleeve t-shirt with frills on the sleeves and collar and sandals with a slight heel.
Once the Xenial Destiny series series began, her appearance changed. She became thinner which in result made her face appear elongated, with a smaller waist and legs. Her appearance has become more youthful, and her eyes also appear more bulging. Her hair is no longer styled but is wavy but covered with a hat.
She worse a slightly flared red skirt which was worn up to her belly button, with a short sleeveless t-shirt with a black collar. She also changed her heels to traditional black Trainers and thigh-high tights. Upon being able to Mega Evolve her Pokémon, she was given a Mega Ring which she wore around her left wrist.
Upon arriving in Hoenn, the hot climate resulted in her removing her hat and tights along with her bag, replacing it with a small rucksack. She also replaced her Mega Ring with a Mega Necklace given to her by Diantha.
Once Lexi reached Mauville City, Lexi modified her appearance. She changed her hair from black to a deep red, replacing her Mega Necklace with a small Mega Ring on her finger. She also changed the color of her skirt, and replaced her t-shirt with a sleeveless and shoulderless one.
As time progressed in Hoenn, Lexi's eye color changed, which was first noticed when she changed her appearance in Mauville City. After consulting with Steven later on, she discovered it was a direct side-effect to the radiation omitted from the Ultimate Weapon, with her eyes continuing to becoming pinker until finally becoming a magenta color.
Trivia
---
In Rotation:

At Hayley's Ranch:
Befriended:
Released:
At Home:
Traded away:
The Alexis Saga Characters
Xenial Destiny Characters
Community content is available under
CC-BY-SA
unless otherwise noted.