Pokédex entry

"When it swims close to the surface of the ocean, people aboard ships are able to observe the pattern on its back. The pattern varies by region. It often swims in a school of Remoraid."

This Pokémon has not evolved.
Mantyke is a Water/Flying Pokémon owned by Lexi. He was first introduced in The Alexis Saga series.
History
The Alexis Saga
Mantyke first appeared when Lexi and her friends were walking through the Marine Tube when they spotted an injured Mantyke. After successfully getting to the Mantyke and helping it, Lexi decided to capture it. Mantyke then participated in Lexi's battle against Marlon at the Humilau Gym and again during the Unova League against Shauntal in B2W2-050.
Personality
Mantyke is a very childish Pokémon, who likes to be cared for by others. It hates to be alone and spends all of it's time with other Pokémon. The only exception to this is when it's swimming, as it likes to swim around alone.
Skills
Mantyke is able to disguise itself within the ocean due to its pattern on its back resembling coral. He can be used to be boarded as a raft but grows tired eaisly due to how young he is.
Achievements
Gallery
Mantyke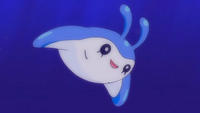 Lexi's Mantyke.
---
In Rotation:

At Hayley's Ranch:
Befriended:
Released:
At Home:
Traded away:
Community content is available under
CC-BY-SA
unless otherwise noted.