Pokédex entry

"When in danger, it raises its ears and releases enough psychic power to grind a 10-ton truck into dust. The eyeball patterns on the interior of its ears emit psychic energy. It keeps the patterns tightly covered because that power is too immense."
Artemis and Luna, collectively known as The Meowstic Twins are Psychic-type Pokémon owned by Lexi.
They were first introduced in the Xenial Destiny series. Unlike most other Pokémon, they share the same Pokéball and power.
History
Xenial Destiny
The Meowstic Twins first appeared in The Lumiose City Bully! when they were using their Psychic powers to manipulate people into stealing food from others for them. Lexi and Calem decided themselves to try and take down the bullies which resulted in them finding out the true 'bullies' being the Meowstic Twins. After finding out the truth, Lexi finds out that they are only stealing food to provide for a group of Espurr and Meowstic Pokémon, who are trapped in Lumiose City due to the busy bustling streets. Lexi helped them all get out of Lumiose City, before the two Twins asked to join Lexi on her adventure. In The Fiery Meeting!, Lexi decided to give them nicknames to differentiate their names with the two revealing their previously used names, Artemis and Luna, which Lexi accepted.
Both were used in battle on multiple occasions, including A Fistful of Korrina! Lexi vs. Korrina! and The Prism Tower Battle! Lexi vs. Clemont! against Korrina and Clemont for Lexi's third and fifth Gym Badge respectively.
Once Lysandre revealed himself to be the Leader of Team Flare, Luna revealed herself to be a double agent working for Lysandre, ultimately betraying Artemis. Luna left Lexi's team, while Artemis remained.
Following this time, Artemis became cold and unsociable towards Lexi and her Pokémon due to it's grief over his sisters betrayal. Lexi eventually got round to Artemis, whom came to terms with his sisters betrayal. He, however, said he hoped to reconcile with his sister in the future.
Artemis reunited with his sister following FIN, in which Luna was in fact revealed not to be working for Team Flare but gaining their trust after they originally threatened the twins family before being captured by Lexi. Luna returned to the team after the revelation and once again battled alongside her brother.
The twins then took part in Lexi's final Gym battle against Wulfric in An Icy Battle! Lexi vs. Wulfric! Part I and An Icy Battle! Lexi vs. Wulfric! Part II.
They now reside at the Kalos Ranch with Hayley.
Skills
The Meowstic Twins are not only able to use telepathy with each other, but anyone else. They can also read minds in order to help them at any turn.
Achievements
Gallery
Meowstic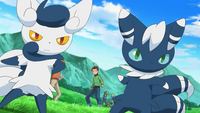 Lexi's Meowstic.
---
In Rotation:

At Hayley's Ranch:
Befriended:
Released:
At Home:
Traded away:
Community content is available under
CC-BY-SA
unless otherwise noted.