Pokédex entry

"Misdreavus frightens people with a creepy, sobbing cry. The Pokémon apparently uses its red spheres to absorb the fearful feelings of foes and turn them into nutrition."

This Pokémon has not evolved.
Misdreavus is a Ghost-type Pokémon owned by Lexi. She was first introduced in The Alexis Saga series.
History
The Alexis Saga
Misdreavus first appeared when Lexi was helping Professor Juniper at Celestial Tower. Misdreavus was revealed to be causing issues which resulted in probelms in the tower. After these were solved, Lexi caught Misdreavus and she joined her team. Misdreavus was then used against Skyla and Drayden.
Misdreavus once more appeared against Shauntal at the Unova League in B2W2-050.
Personality
Misdreavus is often seen to be a quite distant Pokémon, that's quite snobbish towards many other Pokémon. She sometimes lets it's guard down, in which she can be quite silly, usually making other Pokémon laugh.
Achievements
Gallery
Misdreavus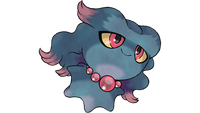 Misdreavus artwork
---
In Rotation:

At Hayley's Ranch:
Befriended:
Released:
At Home:
Traded away:
Community content is available under
CC-BY-SA
unless otherwise noted.