Pokédex entry

"These Pokémon are created when spirits possess rotten tree stumps. They prefer to live in abandoned forests. According to old tales, these Pokémon are stumps possessed by the spirits of children who died while lost in the forest."
Phantump is a Ghost/Grass Pokémon owned by Lexi. He was first introduced in the Xenial Destiny series.
History
Xenial Destiny
Phantump was caught on the way to Dendemille Town in the Lost Hotel in The Lost Hotel!. He appeared as a helper to rescue Lexi and Brigette from being killed by the Gang members in the hotel, and joined Lexi's team soon after
Phantump was shown to be a strong battler upon it's capture, appearing often in Lexi's battles, including against Team Flare and Lexi's Gym battle against Olympia, both during their initial battle and their rematch, winning the second time but losing the first.
It was then used against Wikstrom in Lexi's Elite Four battle in The Strong as Steel Round! Lexi vs. Wikstrom!. Despite putting up a tough fight, he lost the battle.
Lexi continued to use Phantump on her team after the League, where it battled often with Lexi. It was left at the Kalos Daycare when Lexi left for Hoenn.
Skills
Phantump's leaves can cure any ailment in the world. His cries are often used to lure people towards it.
Achievments
Gallery
Phantump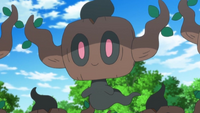 Lexi's Phantump.
---
In Rotation:

At Hayley's Ranch:
Befriended:
Released:
At Home:
Traded away:
Community content is available under
CC-BY-SA
unless otherwise noted.