Pokédex entry

"Pichu charges itself with electricity more easily on days with thunderclouds or when the air is very dry. You can hear the crackling of static electricity coming off this Pokémon."

This Pokémon has not evolved.
Pichu and Pichu, or collectively known as The Pichu Brothers, are Electric-type Pokémon owned by Lexi. They were first introduced in The Alexis Saga series.
History
The Alexis Saga
The Pichu Brothers first appeared in Treasures Aplenty! while Lexi and her friends were on Knot Island at the Treasure Beach. They were both causing mischief on the beach, resulting in Lexi trying to stop them. When they are finally calmed down, Lexi decides she likes their battling attitude and decides to capture them. Unlike most Pokémon, they stay in the same Pokéball. They can be told apart as one Pichu is shiny, while the other has a spiky ear.
They remained apart of Lexi's team traveling around the Sevii Islands and left in the care of Hayley when Lexi headed to Unova.
Personality
Both Pichu are hyperactive and sociable, being very childlike. Because of their immature nature, they don't really enjoy battling other than when playing around. Even as twins, the two are extremely alike in every way.
Skills
Due to being so young, their individual skills have yet to come into themselves. However, they can every now and again jolt people and Pokémon without even meaning to - this is heightened when they rub their cheeks together.
Achievements
Gallery
Pichu Brothers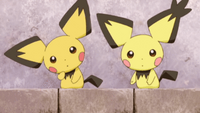 Lexi's Pichu Brothers.
---
In Rotation:

At Hayley's Ranch:
Befriended:
Released:
At Home:
Traded away:
Community content is available under
CC-BY-SA
unless otherwise noted.