Pokédex entry

"They crush berries with their talons. They will challenge anything, even strong opponents, without fear, no matter how strong it is. Their frequent fights help them become stronger."

This Pokémon has not evolved.
Rufflet is a Normal/Flying Pokémon owned by Lexi. He was first introduced in The Alexis Saga series.
History
The Alexis Saga
Rufflet first appeared while Lexi and her friends were on Route 23 on the way to the Unova League. Looking for a last minute addition to her team, Rufflet appeared and she captured him. Despite the hastiness of its capture, Lexi focused on training him, resulting in him being ready for her League Battle against Marshal in B2W2-052.
He then appeared regularly in New Beginnings getting to know Lexi's other Pokémon.
Personality
Rufflet is a courageous and silly Pokémon, who often likes to make a fool of himself in order to make others laugh. Despite this, he's also shown to be very serious when in training or in a battle, but becoming embarrassed if things don't go his way, rather than becoming upset or angry.
Skills
Still very young, Rufflet has a very strong will which is very rarely matched; it offers itself up for battle no matter how strong the opponent.
Achievements
Gallery
Rufflet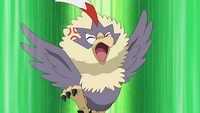 Lexi's Rufflet.
---
In Rotation:

At Hayley's Ranch:
Befriended:
Released:
At Home:
Traded away:
Community content is available under
CC-BY-SA
unless otherwise noted.