Pokédex entry

"Seel hunts for prey in the frigid sea underneath sheets of ice. When it needs to breathe, it punches a hole through the ice with the sharply protruding section of its head."

This Pokémon has not evolved.
Seel is a Water-type Pokémon owned by Lexi. He was first introduced in The Alexis Saga series.
History
Seel was caught during the two years between Best Wishes: Noble Victories and Best Wishes II. Not much is known about where or when he was caught.
The Alexis Saga
Seel first appeared in B2W2-009 when Lexi battled against Burgh at the Castelia Gym. Seel appeared only several times from then on in New Beginnings. It spends most of its time swimming around, and prefers not to battle.
Personality
Seel is a very independent Pokémon, who prefers to be alone rather than playing with others. It often trains with other Water-type Pokémon for its hobby.
Skills
Seel is able to use its horn to breakup ice easily. It's able to cope with freezing cold waters with ease.
Achievements
Gallery
Seel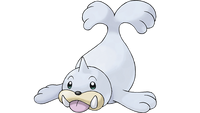 Seel artwork
---
In Rotation:

At Hayley's Ranch:
Befriended:
Released:
At Home:
Traded away:
Community content is available under
CC-BY-SA
unless otherwise noted.