Sinnoh
シンオウ地方
Shin'ō region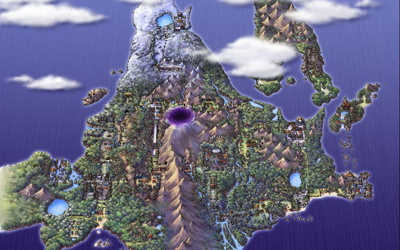 Map of the Sinnoh region.
| | |
| --- | --- |
| Professor | Professor Rowan |
| Starter Pokémon | Turtwig, Chimchar, and Piplup |
| Regional Villains | Team Galactic |
League

Pokémon League
Sinnoh League
League Location
Pokémon League
The Sinnoh region (Japanese: シンオウ地方 Shin'ō-chihō) is a region of the Pokémon world. It is located north of Kanto, Johto, and Hoenn.
Professor Rowan is the resident Pokémon Professor and gives Trainer's a choice between Treecko, Torchic or Mudkip as their starter Pokémon.
History
Cities, routes, and other locations
Sinnoh has fourteen cities and towns, as well as three "areas", and a Pokémon League. These sites act as settlements for people to live and work in a functioning society. The Fight Area, the Survival Area and the Resort Area all act as towns, however, they appear to be more of a tourist destination and are not considered cities or towns. These three "areas" are located off Sinnoh's mainland and on the Battle Zone, which is considered a sub-region of Sinnoh and is implied by some living on the island as a different region altogether, not unlike how the Sevii Islands are considered a separate region from Kanto and Johto. Thus, Sinnoh has a total of eighteen settlements all over Sinnoh, the largest amount of sites in the Pokémon world so far.
The Sinnoh region has 30 different routes, which are passages permitting Trainers to travel from one location to the next with relative ease. Much like Hoenn before it, Sinnoh's routes are numbered so that they don't follow sequence directly from previously-known regions' routes. Routes in Sinnoh are numbered from Route 201 to Route 230. There aren't many water routes; there are many land routes and mountains. Some of Sinnoh's routes have snow covering them; and some of them do not go directly east/west or north/south, but actually turn before reaching their destination, most notably Route 212 and Route 210, which both have two limbs of equal length.
Although it has few water routes, Sinnoh is known to be rich in water, and has three lakes at the northernmost (Acuity), easternmost (Valor), and westernmost (Verity) ends of the main continent. These are home to the members of one of Sinnoh's legendary trios. Near Lake Valor, as well, there is a hidden fourth lake, Sendoff Spring, which houses Turnback Cave. Some other significant locations that Sinnoh offers include Mt. Coronet, the highest mountain in the Sinnoh region and part of a long mountain range that divides the region in half; the Eterna Forest, a large and mysterious forest; and the Great Marsh, a popular habitat for Pokémon and a safari zone for many Trainers.
Gym Leaders
Elite Four
Sinnoh League

Elite Four




Aaron

Elite Four




Bertha

Elite Four




Flint

Elite Four




Lucian

Champion




Cynthia
Battle Frontier
Sinnoh and Johto Battle Frontier

Battle Castle

Castle Valet
Darach

Battle Hall

Hall Matron
Argenta

Battle Tower

Tower Tycoon




Palmer

Battle Factory

Factory Head




Thorton

Battle Arcade

Arcade Star
Dahlia
Community content is available under
CC-BY-SA
unless otherwise noted.