Pokédex entry

"Smoochum actively runs about, but also falls quite often. Whenever the chance arrives, it will look for its reflection to make sure its face hasn't become dirty."

This Pokémon has not evolved.
Smoochum is an Ice/Psychic Pokémon owned by Lexi. She was first introduced in The Alexis Saga series.
History
Smoochum was caught during the two years between Best Wishes: Noble Victories and Best Wishes II. Not much is known about where or when she was caught.
The Alexis Saga
Smoochum has only appeared briefly in New Beginnings when with all of Lexi's other Pokémon.
Personality
Smoochum is a boistrous and attention seeking Pokémon who likes to be the center of attention. She becomes angry and stubborn if she doesn't get her way, but has also been seen to be caring towards others when the situation calls for it.
Skills
Smoochum's lips are highly perceptive sensors, although this is usually for its own use, rather than otherwise.
Achievements
Gallery
Smoochum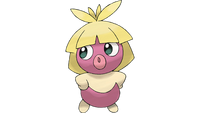 Smoochum artwork
---
In Rotation:

At Hayley's Ranch:
Befriended:
Released:
At Home:
Traded away:
Community content is available under
CC-BY-SA
unless otherwise noted.