Pokédex entry

"This Pokémon likes to lick its palms that are sweetened by being soaked in honey. Teddiursa concocts its own honey by blending fruits and pollen collected by Bug Pokémon."

This Pokémon has not evolved.
Teddiursa is a Normal-type Pokémon owned by Lexi. He was first introduced in The Alexis Saga series.
History
The Alexis Saga
Teddiursa first appeared when Lexi was on Route 5, when he appeared before her. She found out that Team Plasma was trying to capture the Pokémon, and so, confronted them in a battle. Teddiursa got involved in the battle, battling on behalf of Lexi at one point. After this, he joined her team full-time.
Teddiursa preferred not to battle, and so, rarely battled and was more comfortable to observe and watch. He was however, used in the Unova League against Grimsley in B2W2-051.
He reappeared in New Beginnings in and amongst all of Lexi's other Pokémon.
Personality
Teddiursa is a very shy and gentle Pokémon, however, he has shown a great courageous streak within him which leads him to be stronger. Teddiursa is a very social Pokémon who loves to be involved with others, even if he's not primarily the focus.
Skills
Teddiursa, being so young, has not yet shown any particular skills.
Achievements
Gallery
Teddiursa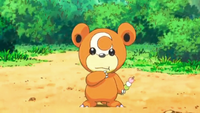 Lexi's Teddiursa.
---
In Rotation:

At Hayley's Ranch:
Befriended:
Released:
At Home:
Traded away:
Community content is available under
CC-BY-SA
unless otherwise noted.