Pokédex entry

"This Pokémon loves fruit, and eats it continuously. Apparently, its love for fruit resulted in its own outgrowth of fruit. Children of the southern tropics eat as snacks the fruit that grows in bunches around the neck of Tropius. This Pokémon flies by flapping the leaves on its back as if they were wings."

This Pokémon is fully evolved.
Tropius is a Grass/Flying Pokémon owned by Lexi. He was first introduced in the Xenial Destiny series.
History
Xenial Destiny
Tropius first appeared in Saviors in the Storm! when Lexi and her friends were on their way to Fortree City. They found Tropius in their path battered and bruised being helped by an elderly lady. She explained that she saw Tropius being abused by a group of Trainers, which were stealing it's fruit and beat it up when it was unable to produce more. Hearing this, the group try and successfully get Tropius healed and strong again before he confronted the Trainers. Not wanting him to cause any harm, Lexi successfully calmed down Tropius saying he wouldn't feel better by attacking the Trainers. Thankful towards Lexi, he coaxes her into allowing him join her team.
Tropius was instantly a very strong willed Pokémon, who continuously wanted to do its best for Lexi in battle, mostly in fear that if it didn't it'd be abandoned again. Once Lexi realized that it was pushing itself too hard in which it became ill, she trained it into not being so nervous and scared, revealing she wouldn't abandon it.
Following this, Tropius continued to be a strong Pokémon, however, now due to it's power and not due to fear.
Personality
When first caught, Tropius seemed to be a very powerful Pokémon, however, wasn't very sociable and quite timid around other Trainers. However, as it grew to not be scared around Lexi, it soon came out of it's shell, becoming a fun loving Pokémon who loved to play with others. It almost appeared as a father figure to Lexi's team, wanting to keep the peace and make everyone happy.
Skills
Tropius is able to disguise itself as a tree thanks to its leaf wings and overall appearance.
Achievements
Gallery
Tropius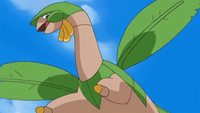 Lexi's Tropius.
---
In Rotation:

At Hayley's Ranch:
Befriended:
Released:
At Home:
Traded away:
Community content is available under
CC-BY-SA
unless otherwise noted.