Pokédex entry

"This Pokémon brings victory. It is said that Trainers with Victini always win, regardless of the type of encounter. When it shares the infinite energy it creates, that being's entire body will be overflowing with power."

This Pokémon is fully evolved.
Victini is a Psychic/Fire Legendary Pokémon owned by Lexi. It was first introduced in The Alexis Saga series.
History
The Alexis Saga
Victini first appeared in BW137 when Lexi visited Liberty Garden. While there, she came into contact with Team Plasma who were holding Victini captive. Lexi saved the [[Victini and in BW138, it was captured. Unlike most of Lexi's other Pokémon and because of it's mythical status, it remained in Unova however has a device which allows it to be called upon at any time.
It appeared briefly when it visited the Sinnoh Ranch in SI001.
Personality
Victini is a very childish, immature yet kind Pokémon. It likes to play around with others and often appears invisible to play harmless tricks on people. Victini is known to travel a lot, but often visits Lexi's other Pokémon whenever it's in the area.
Skills
Victini brings victory; anyone that comes into contact with him is said to become victorious in anything they want if Victini allows.
Achievements
Gallery
Victini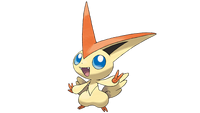 Victini artwork
---
In Rotation:

At Hayley's Ranch:
Befriended:
Released:
At Home:
Traded away:
Community content is available under
CC-BY-SA
unless otherwise noted.